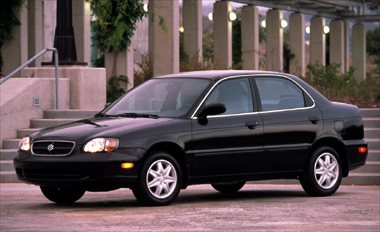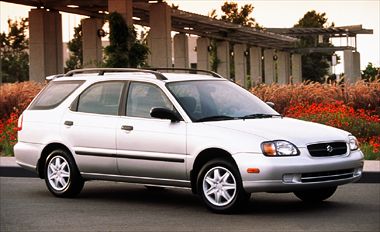 SAN FRANCISCO: Been looking for a good used car because you think you can't afford a brand new one. Before you plunk down $13,000 to $15,000 for a car with many miles on the odometer, you might take a look at the Suzuki Esteem. For about the same price, you can get zero miles and the new car smell.
The Suzuki comes either as a four door sedan or a four door station wagon, each in several trim levels, GL, GLX and GLX Sport sedan or GLZ+ wagon. Both wagon and sedan feature quite handsome styling that definitely does not shout "cheap."
Suzuki Esteems are now powered by a new 1.8-liter four-cylinder engine that replaces the previous 1.6-liter. The new engine's specifications are quite sophisticated considering this is an economy car and include a dual-over-head camshaft (DOHC) and four-valves-per-cylinder. The engine is rated at 122 horsepower at 6300 rpm and has 117 foot pounds of torque at 3500 rpm. These front-wheel-drive models can be ordered with either a five-speed manual transmission or a four-speed automatic. The EPA numbers are

City MPG Highway MPG
5-speed Manual 28 35
4-speed Automatic 26 32
The fuel tank holds 13.5 gallons.
The Esteem's interior is what you might expect in a car in this price range - adequate, a bit spartan, but not cheap looking. The materials used appear to be of decent quality. As a cost cutting measure, a tachometer is not offered on the base GLs. I also found the smallish controls on the radio a bit hard to use while driving.
While both the sedan and wagon use the same 97-½ inch wheelbase, the wagon is about six inches longer to provide for more cargo carrying capability, which is a rather impressive. The integrated roof rails on the wagon can handle up to 100 pounds of cargo. Trunk space on the sedan is more than adequate and the GLX and GLX models feature a split-folding rear seat.
For an economy car, the Suzuki is fun to drive, especially if equipped with the five-speed transmission, through the automatic will probably be preferred by those who have to do a lot of stop-and-go-driving in traffic The new 1.8 liter engine gives sprightly performance, the steering is quick and precise and the brakes, though a bit on the touchy side, work well. While the Esteem's forte is as an urban hauler, I would not hesitate taking an Esteem on a cross-country trip.
Prices for the Esteem start at under $13,350 and for the wagon, $13, 850. And even if you bought a "loaded" top-of-the-line GLX+ version, you would just reach the $16,000 mark. Even the most basic GL models comes decently equipped with things like air conditioning, AM/FM/Cassette stereo, rear window defogger and variable intermittent windshield wipers are standard equipment.
However, rather than just ordering individual options, you do have step up to the next trim level to get additional features. If you move up to the mid-range GLXs, you get power windows, door locks and mirrors plus remote keyless entry. The GLX Sport and GLX+ come with cruise control and anti-lock brakes. All wagons have a rear-window wiper, and the GLX+ wagon even has a power sunroof as standard equipment.
The Suzuki brand is not that well known to most car buyers, so you might take a greater loss at trade-in time than with a more familiar brand. However, if you are the type who keeps a vehicle a long time, the Suzuki could represent a good investment. As to reliability, Suzuki is one of the world's leaders when it comes to very small cars and also a builder of some rather rugged sport utility vehicles. Suzuki engines have a very good reputation.
Finally, many very low priced brands like Suzuki, Kia and Hyundai have been given a bad rap for poor reliability. While, not of BMW or Mercedes-Benz standards, these cars are quite well built. Many of problems experienced are because the owners on tight budgets have a difficult time making car payments let alone coming up with the money for preventive maintenance. Therefore, they don't get the TLC given more expensive vehicles owned by wealthier people. The bottom line is that given proper care, a Suzuki is capable of giving many years of dependable service. By Bill Siuru © AutoWire.Net - San Francisco

Byline: By Bill Siuru © AutoWire.Net - San Francisco
Column Name: "A New Car for a Used Car Price"
Topic: 2000 Suzuki Esteem
Word Count: 711
Photo Caption: 2000 Suzuki Esteem
Photo Credits: Suzuki PR
Series #: 1999 - 67