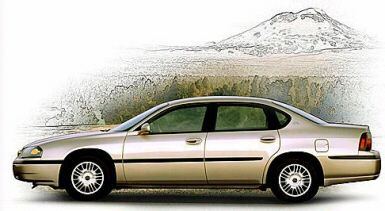 SAN FRANCISCO: Self-proclaimed as "America's Best Ride" in promotional literature, Chevy's new 2000 Impala is sure to create showroom excitement. Impala's legacy dates back to 1958, when Chevy introduced what would become one of its all-time favorites to hungry American consumers. In its 13-year reign through 1971, Impala sold more units than any of its Bowtie siblings, yet was shelved by GM in 1972 when Caprice nomenclature upended Impala as the flagship model.
Impala reappeared, albeit insignificantly, in Chevy's 1977 lineup, then quickly fell into a deep, 17 year hibernation. In 1994, however, a beautiful, full-size, rear-drive Impala SS with a Corvette-bred 350 LT1 under the hood rolled off the assembly line. It became an instant hit, and reestablished Impala's muscle car heritage. The 1994-96 Impala SS is rated by The Extra Mile as one of the best Impala's ever, second only to the 409 powered 1961-62 Impala SS models and ahead of the legendary 1968-69 SS427 ragtops.
Where, then, will the 2000 Impala fall on our Impala rating scale? We'll save that for later, but regardless of where we finally rate the 2000 Impala, the car is poised to become another Chevrolet best seller.
At first glance, an intriguing design and spacious cabin make for positive impressions, while the availability of two V-6 engines, a base 3.4-liter and an optional 3.8, offer those looking for more power the ability to do so. Impala 2000 promotes what Chevy dubs a "Total Performance System," consisting of a unified drivetrain and component package. Chevy utilizes some of General Motors best sport sedan suspension ideas on Impala LS, and then upgrades the design by adding stronger (yet lighter) chassis ingredients. Included are a racing bred front suspension system, extruded aluminum engine cradle, world-class four-wheel disc brakes, standard 16-inch tires and wheels, front brake cooling technology, and full functional traction control. If you want ABS and have your heart set on the base model with the smaller V-6, it will run an additional $600. If you upgrade from the 3.4 to the LS 3.8 engine, you'll receive the anti-lock brakes, cast aluminum wheels, traction control and a suspension monitoring system all for only $986 more, which we recommend.
Before we head out onto the road, lets' synopsize the 2000 Impala. The car may be new by Chevrolet marketing standards, but most of the powertrain components on the car are not. The 3800-V6 in our dark blue LS test car is basically the same engine that powered Pontiac Bonneville and Buick LeSabre back in 1988. It's a great, bulletproof, 200-horsepower motor, and still used by several GM platforms; but it's certainly not new. Meanwhile, the standard 3.4-V6 also has a past, most notably as the powerplant of choice for GM's minivan brigade. Other highlighted Impala offerings, like transmission and converter, are upgraded components that have reliably served GM owners for years.
However, just because the drivetrain isn't new, we still give Impala several pats on the back for ingenuity. Safety wise, Impala meets the 2003 government standards for head injury protection, along with offering optional side-impact air bags. A safety cage construction complements Impala's long list of security features. Included are dual air bags, a new structural headliner, energy absorbing foam in the side pillars, high-strength steel in the "B" pillars, and stronger rear doors to reduce force upon impact. Advanced engineering like this is most welcome.
Inside, Impala's cabin is one of the best we've encountered. Comfort and amenities abound, with "quiet" being the interior creed. Chevy creates more usable interior room by moving Impala's seats, steering wheel, and door assemblies outward a bit, resulting in true "big-car" dimensions. Rear passengers frontal view is enhanced because Chevy raised Impala's rear seat slightly, which is just one aspect of GMs most extensive seating research and development programs. (A physical therapist came in and analyzed dozens of designs for strengths and weaknesses). All dashboard gauges are large and easy to read, while control knobs are within easy reach, too. The base model seats six passengers, while the bucket seat equipped LS accommodates five.
Outwardly, the rear deck on Impala is reminiscent of the bold step Chevy took in 1959, when gull-wing fins and huge rear taillights adorned the design. There may not be any gull-wing fins on Impala 2000, but the huge rear tail lamps are impressive and instant eye catchers. The front-end arrangement, too, is a marriage of style, aerodynamics and logic, with sweeping lines that culminate in excellent visibility for all passengers. Aesthetically, the 2000 Impala is pleasing, yet still lacks the "punch" of Daimler/Chrysler's modern day motorcar design.
As for the trunk, Impala allows stuffing 17.6 cubic feet of cargo into the back, and then reduces the likelihood of cargo damage by adding non-intrusive, gas-assisted trunk hinges. Other specifications include a 110.5 wheelbase, 17-gallon fuel tank, and a 3389-pound curb weight. EPA numbers for the 3.8 V-6 are 20/29, with acceleration to 60 MPH in about 7.8 seconds.
On the road, Impala is reassuring and a good road handler in normal driving conditions. Be it merging on a freeway, passing on a two lane road or just cruising on the freeway, Impala did everything well. It hugs country road corners, traverses mountain roadway, and offers that certain snugness we've come to expect in the higher echelon GM sport sedans. Classified as a large car by the EPA, Impala offers more room than a Lexus 400, yet its turning circle is less than a Ford Taurus. It is for reasons like this we like the "new" Impala 2000, but we doubt many Lexus owners will make the switch.
The base model Impala costs $18,705, while the LS starts at $22,365. Our fully loaded LS 4-door sedan bottomed out at a tad over $25,000, delivered, which we feel is reasonable. This car appeals to the American family that demands space, good looks, sporty flair and a fair price. Two door lovers may want to check the 2000 Monte Carlo SS, which is built on the same platform and offers identical powertrain choices.
In summary, Impala LS is a well-built, roomy, good-looking sedan that is worth a serious look. As for the aforementioned all-time Impala rating, we'll give it a Top 10, mainly because the car looks good and is loaded with high tech safety features. By Greg Zyla © AutoWire.Net - San Francisco

Byline: By Greg Zyla © AutoWire.Net - San Francisco
Column Name: "The Extra Mile"
Topic: The 2000 Chevrolet Impala
Word Count: 1078
Photo Caption: 2000 Chevy Impala
Photo Credits: Chevy PR
Series #: 1999 - 62