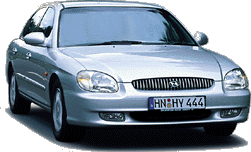 SAN FRANCISCO: Our test vehicle this week is the 1999 Hyundai Sonata GLS V-6, a 4-door sedan that is sure to make both consumers and the manufacturer very happy indeed. It's the suprise car of the year!
This corporate Hyundai "happiness" had to happen sooner or later. From the very start, Hyundai has been committed to building a car that would one day be a true player in the ultra competitive mid-size class. Of course, success didn't come without some hard knocks along the way, which is basically how Hyundai's first cars ran. Plagued with mechanical woes far more frequently than competitors, the little manufacturer stumbled a bit out of the gate until three years ago, when Hyundai became more reliable in every aspect. Hyundai's forte, on the other hand, has always been price, and this car is no exception.
Today, Hyundai is indeed a threat for market share. Foreigners Nissan Altima, Honda Accord, and Toyota Camry and American counterparts Mercury Mystique, Ford Contour, Chrysler Cirrus and Dodge Stratus attract the bulk of the sales, while Hyundai lines up much like Mazda's 626 and Mitsubishi's Galant in trying to win over market share. We feel they have a great chance of doing so.
Utilizing the advertising lingo "Driving is believing," Hyundai enters the 1999 sales race with a mid-sized vehicle that truly lives up to its marketing hype. Design wise, Sonata GLS is very pleasing overall. The front end looks like a design potpourri of Mazda, Lincoln Continental and Town Car, while the rear end is similar in a small way to Audi and Honda Accord. When you put it all together and press it out in steel, it all works. From front to rear deck, the look of the "Nineties" is evident.
We especially like how Hyundai designers handle the latest car design trend, specifically the large rear stop light lenses. Someone is doing things right in the drafting room, as our test car, finished in silver, looked quite good in our driveway. When several interested onlookers asked of its heritage, they were surprised to hear the words "Hyundai Sonata" come from our lips. Not once did a negative remark come our way.
Of course, looks is one thing; driving is another. Again, Sonata GLS is a pleasant surprise. Not only did Sonata drive solid and refined, it did so with ample torque when we pegged the throttle. When pushed in turns and pressed for more acceleration as the road straightened, Hyundai performed as good if not better than some of the competitors we've driven. Sonata completes all road test functions with a tad of firmness in the GLS suspension, which we would opt for if a choice was given. The interior seating, too, exudes a pleasing firm comfort and much more room, something we liked since daily drives encompass 100 miles or more. The wheelbase measures in at 106.3-inches and gross vehicle weight comes in a shade under 3,000-pounds.
Hyundai's driving demeanor resembles more a German heritage than Japanese or Korean. The interior is quiet,with only a bit of noise coming from the standard high performance Michelin P205-60HR-15 tires, which is normal. Other than that, this car is solid and silent, with none of the squeaks or rattles that hampered some of the earlier Hyundai models.
As for owner confidence, Hyundai's protection plan and standard warranty is one of the best in the industry. For 10 years or 100,000 miles, Hyundai warrants the powertrain, and then backs it up with a 5-year, 100,000-mile bumper-to-bumper warranty. Add a 5-year, 100,000 non-perforation (The Extra Mile calls this "rust") and 5-year unlimited mile roadside assistance, and you've got one very impressive warranty coverage program, miles ahead of some of the basic foreign and domestic counterparts.
The biggest surprise of all came at the bottom of the price sticker. This car comes delivered standard with a 2.5-liter V6 in 24-valve design, front wheel drive, 4-speed automatic transmission and all the powers one would expect in a top class car. Included in the base GLS price are 4-wheel independent suspension, cast alloy wheels, cruise, air conditioning, 100 Watt Compact Disc/Stereo system, dual air bags, side front air bags (that's right, just like Mercedes!), and a cockpit surrounded by steel reinforcements. The price? How about $17,799?
This price is lower than last year's nearly identical model, and our test model added $78.00 floor mats, a $195 California emissions package, and the $435 destination charge for a grand total of $18,507 retail, delivered. That's a lot of car for the money, and a real bargain in class. Of course, this is retail, so check your papers for actual dealer discounts and incentives. You'll pay less for Sonata GLS for sure.
In summary, Hyundai Sonata GLS V-6 receives our "Surprise Car Of The Year Award For 1999." Sonata GLS is good looking, fun to drive, comfortable, agile and powerful. You can't ask for more. If you're in the market for a nice mid-sized 4-door sedan, give Hyundai's Sonata a try. You'll be surprised...again and again. By Greg Zyla © AutoWire.Net - San Francisco

Byline: By Greg Zyla © AutoWire.Net - San Francisco
Column Name: The Extra Mile
Topic: '99 Hyundai Sonata GLS
Word Count: 859
Photo Caption: 1999 Hyundai Sonata GLS
Photo Credits: Hyundai PR
Series #: 1999 - 54