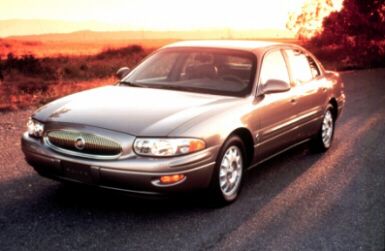 SAN FRANCISCO: Before SUVs and minivans became popular, families bought family sedans. This means a roomy, four-door sedan with a comfortable ride, powerful V8, large trunk and a reasonably affordable pricetag. The all-new Buick LeSabre fits this description in spades! While the LeSabre was completely redesigned for 2000, it still looks like a Buick should look. Indeed, the restyling is so subtle that you may have to park a 1999 and 2000 model side by side to see the differences.
While the LeSabre does not have a V8, it does have a well proven V6. LeSabres use Buick's venerable 3.8-liter overhead valve (OHV) engine that has been around since the early 1960s, though naturally improved through the years. The engine produces 205-horsepower at 5200 rpm and 230 ft-lbs. of torque at 4000 rpm. Unlike many of today's sophisticated overhead camshaft engines that sing along at high rpms, at 70 mph this pushrod V6 is turning over at a mere 2000 rpm, a factor that cannot but help durability. The four-speed, overdrive automatic transmission on this front-wheel-drive car likewise works smoothly and effortlessly. The EPA numbers are 19 mpg in the city and 30 mpg on the highway with a 17.5 gallon fuel tank. While the engine might be unsophisticated, it gives excellent performance and has a proven track record for reliability.
Since safety is important to most family car buyers, the LeSabre is laden with safety features. For instance, the LeSabre now has side airbags for the front seat occupants. The new high-retention front seats have self-aligning head restraints to help reduce whiplash injuries. They are designed to absorb energy during a rear crash and mechanically align the head restraints to provide proper head support during a crash. Outside mirrors are a bit bigger too
The ride, as might be expected in a big Buick, is excellent. And unlike Buicks of the past that handled a bit on the floaty side, handling is taut and almost sports sedan-like. The LeSabre I test drove did have the optional Gran Touring Package that includes larger P225/60R16 touring tires on wider 16-inch aluminum wheels, magnetic variable effort steering, higher final drive ratio for enhanced acceleration, leather-wrapped steering wheel and a sportier version of the LeSabre's fully-independent suspension. Anti-lock braking is standard on LeSabres and disc brakes are used on all four wheels.'
The interior is family-friendly. Though advertised as a 6-passenger sedan, only four adults will travel in complete comfort. Rear legroom and headroom are as they should be in a family sedan. The trunk is huge with 18 cubic feet of capacity and features a low liftover for easy loading. The instrument panel has also been completely revised. Most appreciated are the larger gauges and controls. There is a center console which incorporates functional, though not exactly beautiful, dual fold-out cupholders.
The LeSabre gives you lots of car for the money. The Custom has a $23,850 base price. It is well equipped with items such as air conditioning, cruise control, AM/FM stereo, remote keyless entry, automatic self-leveling suspension and power windows, door locks and mirrors. The Limited costs $27,995 and adds dual climate control, a premium sound system, aluminum wheels, driver information center, more gauges and a fresh-air ventilation system designed to screen out pollen. Traction control is a $175 option, and on the Custom you also have to order the somewhat costly Luxury or Prestige package as well.
The LeSabre is Buick's best selling model. Indeed, the LeSabre is the best selling full-sized, American car, a title it has held for the past seven years. There is no reason why the new LeSabre will not hold this position in 2000 as well. By Bill Siuru © AutoWire.Net - San Francisco

Byline: By Bill Siuru © AutoWire.Net - San Francisco
Column Name: A Truly Traditional Family Car
Topic: 2000 Buick LeSabre
Word Count: 625
Photo Caption: 2000 Buick LeSabre
Photo Credits: Buick PR
Series #: 1999 - 52