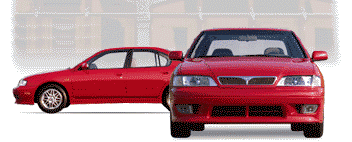 SAN FRANCISCO: Since 1989, Infiniti has been Nissan's upscale line, a sports/luxury rival of Lexus, Acura, and challenger to the premium European brands, including Mercedes and BMW. The original G20, based on the European market Primera model, represented the bottom end of Infiniti's line-up. Now, after a two-year hiatus, the 1999 model is, as the TV commercial says, "designed in Japan, educated in Europe", and is, presumably, fit for America.
The G20 comes in two flavors - standard and Touring; my test car was the latter. It carried one of only two enhancements, the Leather and Convenience Package, with leather seats and shift knob, power sliding glass sunroof, power driver's seat, Homelink universal transmitter (precariously installed in the sun visor), and an HVAC micro filter.
The G20 provides cozy accommodations. The driver and front passenger can stretch out, but my nearly-six-foot-tall son caught his size 11s under the front seat as he squeezed himself in. Bigger Infinitis are pretty posh, but the G20's interior is longer on sport than spiff. Plush is not this car's forte -- handling and style are.
The G20 comes only with a 140 horsepower four-cylinder engine. No six-cylinder or turbocharged version is available, unlike some of the competition. My tester's automatic transmission shifted competently, bogging down only once, on an extended uphill climb. The standard five-speed manual would be a livelier experience. A major advantage of a small engine is its high mileage ratings. The G20 did not disappoint, earning 22 city and 28 highway from the EPA. As a four-cylinder, it should save owners a bit on their insurance premiums, too.
The G20t's handsome four-door body features a macho-looking airdam below an understated grille. The wing on the trunk lid adds a sporty cue but little if any helpful downforce. The eight-loop alloy rims provide some pizzazz, although the 15-inch wheels look a little small in their wheel wells. The predominantly tan interior, with a brown dash and black work surfaces, feels well crafted and displays the rugged, rectangular practicality of a Volvo design. Elegant Infiniti gauge typography, dual automatic climate controls, a crisp-sounding Bose audio system with CD, fold-down rear armrest and fat leather-wrapped wheel distinguish this car from the mass of grocery-getters.
With only modest muscle, the G20t will appeal most to drivers who prize sharp handling and terrific build quality. Like a VW Jetta or Audi A4, it responds to steering input in a heartbeat. This is likely a result of the unique front multi-link suspension system, careful suspension tuning and rigid unibody construction. Infiniti's Intelligent Body Assembly System (IBAS) construction insures no more than a 1.0-millimeter gap between body panels.
My Aspen White test car came to a reasonable $24,990, including destination charges. Blessed with a wealth of convenience, safety, and engineering virtues, the G20t keeps things interesting at the shallow end of the Euro-Asian motor pool competing for American buyers' hearts. By Steve Schaefer © AutoWire.Net - San Francisco

Byline: By Steve Schaefer © AutoWire.Net - San Francisco
Column Name: Designed in Japan, Educated in Europe
Topic: '99 Infiniti G20
Word Count: 480
Photo Caption: '99 Infiniti G20
Photo Credits: Infiniti PR
Series #: 1999 - 38