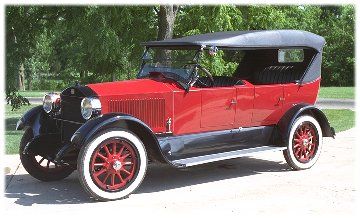 SAN FRANCISCO: A Stanley Steamer is a rare sight today, standing tall and angular, and its flat, rectangular panes of glass glistening inside a sober sedan body. My young son and I rode in a well-preserved example for a parade, and I had a chance to drive the car afterwards.
What is first apparent is the sheer height of the beast. It towers over today's fleet, even sport utility vehicles. It boasts separate fenders and running boards, a stately radiator with an eagle on its cap, separate headlamps the size of snare drums, spoked wooden wheels, a split, opening windshield with tiny, manually operated wipers, and metal spring bumpers. My test car wore 1922 license plates for show. Inside, passengers sit high and upright as in a church pew. The passenger compartment is a wooden frame with mahogany trim, covered with aluminum. The interior of this particular Stanley was upholstered in a burlap-like green cloth, except for the front seats, which are rugged imitation leather. A cut-glass light sparkled in the tall ceiling, and twin bud vases flanked the rear panels next to the passengers.
The Stanley will accommodate two up front, and perhaps three in the rear. There are no seatbelts of any kind, of course -- they wouldn't become available in cars for another thirty years. Nickel-plated gauges on the dash tell the steam pressure, fuel level, speed, oil feed, water level and more. They wear the antique patina of your great grandfather's pocket watch. Oval opera windows (revived in the 1970's) relieve claustrophobia for rear-seat passengers. The 1922 model came near the end of the Stanley's 30 years of car design and production, and looked much like other cars of its era, such as Ford's Model T. The big difference was under the hood.
Early Stanley product literature extols the virtues of steam engines, which were well known for their use in railroad locomotives. "The Stanley engine does not generate the power; it merely delivers it", states the brochure. "Therefore, no explosive self-destructive effort is involved…no power is lost in sustaining combustion and none is wasted in 'idling.' "By 1922, when the gasoline engine was in its ascendancy, these claims sounded somewhat defensive.
The Stanley Motor Carriage Company materials proclaimed that "no mechanical knowledge is necessary in order to drive an automobile successfully." "That's a great big lie," said Chris Roberts, the owner of our 1922 Stanley. As we rode down city streets in the Stanley, Roberts was constantly attending to something inside, under, or around the car. He lifted a section of the wooden-plank floor to adjust the pumps. He crawled underneath the car to add oil, adjust the valves, and fix a fuel leak. He opened the non-condensing valve to allow steam to gush out and entertain the parade attendees. Then, Roberts' sensitive ears detected a clogged fuel jet. He adroitly popped it out like a man who had done it many times before. "These build up carbon," Roberts said as he brushed it clean, then reinstalled it.
The Stanley uses a boiler, fueled by gasoline or kerosene, to build pressure to drive two cylinders alternately. There is no transmission - pressing a floor pedal reverses the timing and immediately sends the car into reverse. Roberts demonstrated this several times during the parade. "No ordinary car could do this," he announced with pride. With its steam energy and no transmission, the Stanley delivers the same amount of power at any speed, and turns over 924 times per mile. So, the faster the car goes the quicker the engine turns. That lazy rpm made Stanleys quite durable, but most of them never went much over 40 miles per hour. A specially prepared Stanley racecar did hit 127.66 mph in 1906, but that was hardly the norm.
As we motored along, the reciprocating song of the exhaust and occasional shriek of the burner announced our presence to people far and wide. We needed water, and some nice folks shared their garden hose and bucket with us and, like everyone else we met, marveled at the unusual car. A long, black hose, stored in the car, is used to siphon water out of a bucket or trough to top off the Stanley's 20-gallon water tank. The boiler itself holds 15 gallons. I got in a few minutes behind the wheel. The biggest difference it and a modern car is the Stanley's absolute lack of power steering assist and use of a hand throttle. Early motorists would certainly have no need for Nautilus equipment. What their feet gained in giving the throttle control to the hands was more than offset by the effort required to operate the rear-only drum brakes. There are no turn signals in this vintage ride, so I used the hand signals I learned to pass my driver's license test thirty years ago. Electric turn signals were not offered on the Stanley.
1922 Stanleys in the sedan configuration like this car are rare - it is one of only seven made. According to its owner, the original buyer had the body custom made to match the sixth one, which he admired. The Stanley is the invention of identical twins, Freeland O., and Francis E.Stanley, known as F.O. and F.E., born June 1, 1849. An 1897 photograph shows them wearing identical bowler hats and beards, sitting high atop their first car, tall as a stagecoach.
After early success in making violins and the perfecting the first practical manufacture of photographic dry plates, the ingenious Stanleys witnessed a demonstration of a poor-quality steam car in 1896 and determined to produce a better one themselves. They introduced their steam car in a "horseless carriage" event in late 1898 to an enthusiastic crowd.
In 1899, the brothers Stanley sold their photographic business to Eastman Kodak and went full steam ahead in the car business. Soon, however, the company was sold to two men who promptly changed its name to Locomobile. By 1900, the ever-industrious Stanley Brothers were back in the steam car business with redesigned products. By 1903, the Stanley Company had 140 employees producing and selling about three cars a day. Locomobile's owners, who had already quarreled and split the company in two, were not amused. The Stanleys continued to create new body styles and general improvements well into the second decade of the 20th century, but with the arrival of the electric starter, gas engines became even more practical, and the steam car's popularity declined rapidly. In May 1917, the Stanley brothers retired, and ironically, the next year F.E. died in an auto accident. The Stanley company's managers bravely continued on, but in 1925, the last Stanley car rolled off the line. F.O. Stanley outlived his company, and died in 1940. By Steve Schaefer © AutoWire.Net - San Francisco

Byline: By Steve Schaefer © AutoWire.Net - San Francisco
Column Name: Steam Powered Classic
Topic: 1922 Stanley Steamer
Word Count: 1121
Photo Caption: 1922 Stanley Steamer
Photo Credits: Stanely Steamer Museum
Series #: 1999 - 37