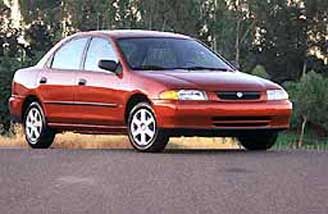 SAN FRANCISCO: Are you looking for a compact four-door sedan? Have I got a deal for you (or rather Mazda does). The 1999 Mazda Protege ES is a worthy contender in the compact sedan arena and it's priced very competitively at $15,555. Mazda has done a super job of packaging just about everything you might want in a tasteful, roomy, compact sedan.
I'll be the first to admit that small four-door sedans aren't my favorite body style. To me they conjure up an image of a small family car (I'm not sure if that means it's for a small family, a family of small people, or a small car made for a family), kind of an econo-box for someone who can't afford the real thing. So let's make this clear, the Protege ES is not the Queen Mary but it can fit four adults in reasonable comfort. It is definitely not the compact sedan of old, where being assigned to the back seat was akin to being sent to purgatory.
Mazda calls the Protege ES' styling "creased, European-inspired", whatever that means. Whatever you call it, I thought it was handsome - not beautiful and not macho. Sometimes you look at a car and it just looks right. The Protege ES is one of those cars. Tasteful. (I'm big on tasteful. I hate it when a car looks dated before you've finished paying for it.)
Mazda products, at least in my mind, have always been "almost" vehicles. They were almost as good as a Toyota or Honda. I don't see any "almost" anymore. The fit and finish was there, every bit the equal of what I've seen on Toyotas and Hondas recently.
According to Mazda, the interior space is a class leading 92.6 cu. ft. and the trunk has 12.9 cu. ft. of storage space. Even more impressive to me was the overall high quality of the interior materials used in the Protege ES. I never once felt like I was driving a cheap car.
Every Protege, whether the base DX, LX, or top-of-the-line ES is equipped with power steering, rear seat heater ducts, body-color bumpers (Don't you just hate it when a car has those matte-black colored bumpers that scream "I'm cheap"?), intermittent wipers, 60/40 split fold-down rear seatbacks, tilt steering wheel, low fuel warning lamp (I really wish every car had one of these), and adjustable front shoulder belt anchors (something else that should be standard on every car).
Additional standard equipment on the LX and ES is cruise control, AM/FM stereo with a CD player, power door locks, body-colored door handles and side moldings, power mirrors, adjustable driver's seat height and tilt, power windows, and integrated rear seat headrests. The ES adds air conditioning, 15-inch alloy wheels, and keyless remote with illuminated entry. I used to think that keyless entry was dumb. But it makes so much sense to me now for safety reasons, especially when it turns on an interior light when the doors are unlocked. A sign of the times?
There are, of course, some extra cost options (automatic transmission, rear spoiler). Mazda groups some together into "Premium Packages". For the ES, the Premium Package ($1,330) includes a power glass moonroof, ABS (anti-lock brakes), and floor mats. Strange, but from the way I read the information provided by Mazda, you can order the moonroof separately but not the ABS.
One extra you get with the ES is the 1.8-liter, DOHC, four-cylinder engine instead of the base 1.6-liter engine. It puts out 120 hp here in California, down two from the Federal version due to its NLEV (National Low Emissions Vehicle) status. Yes, fuel economy does suffer some with the bigger engine but come on, it's still light years ahead of your neighbor's SUV. With a manual transmission, the ES is rated at 26-mpg city and 30 highway.
I can't say that driving the Protege ES was a big thrill, it just isn't a sports car. I will say that I found its handling on par with, or slightly ahead of, its competition. What did impress me was its "carved from a single piece of steel" feel. I remember one car I drove about ten years ago that I and some friends dubbed the "flexible flyer" due to the obvious flexing of the body (you could watch the gap change between the frame-less side windows and the body). There was none of that with the Protege ES.
A stiff body structure really helps the suspension engineers do their job because they don't have to fudge things to make up for a body that flexes. The suspension can just do its job. In the case of the Protege ES, I'd say that job was to combine a smooth ride with competent handling. And it works.
So, if you need four doors but you're on a budget (or just frugal), and you're looking for a class ride, check out the Mazda Protege. I tallied up all the options you can order and it still comes in for just over $18,000. As tested, with delivery charges, it listed for $15,555, a darn good price for a very good car. By Bruce Hotchkiss © AutoWire.Net - San Francisco

Byline: By Bruce Hotchkiss © AutoWire.Net - San Francisco
Column Name: Tasteful, Roomy & Compact
Topic: '99 Mazda Protege ES
Word Count: 860
Photo Caption: '99 Mazda Protege ES
Photo Credits: Mazda PR
Series #: 1999 - 34