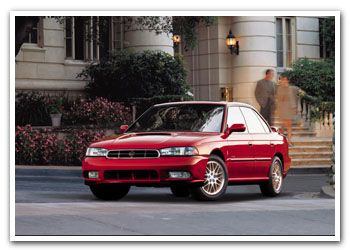 SAN FRANCISCO: A few years ago, Subaru, which was suffering through some lean years, hit paydirt with the Outback, an all-wheel-drive Legacy station wagon modified for off-road use. The model became such an overwhelming hit that it drove the company into the black and inspired Subaru to become an exclusively all-wheel-drive company.
It seems obvious in hindsight, but Subaru's next step was to introduce a sedan version of the Legacy Outback, and call it the Sport Utility Sedan (SUS). The real point of the SUS is to deliver the Outback's balance of car-like ride and off-road ability in a more intimate package. The extra 1.2 inches of ride height, oversized fog lamps with stone shields, grid-type grille, hood scoop, two-toning, and rugged five-spoke alloy wheels say "off-road" with a trunk.
With its 1999 models, Subaru commemorates 30 years of selling cars in America. My test car featured not only the "Limited" package, but wore the 30th Anniversary badges and features too. This meant an already complete car was sprinkled with a two-way power moonroof, special wheels and tires, power antenna, rear spoiler and driver's seat height adjuster.
Standard equipment includes a great sounding entertainment center, with AM, FM, CD, cassette and even the Weather Band. The leather interior and trim, darkly tinted side glass, power windows, door locks and mirrors, cruise control, air conditioning, and other conveniences add upscale flavor.
Sesame Street graduates will go nuts reading the outside of this car. Badges are everywhere, from "Subaru" to "SUS"", Limited," "AWD"", 30th Anniversary Edition," "ABS" (anti-lock brakes) and even "Team Crafted in Indiana." Yes, the car is built in Lafayette, Indiana, by Americans, who may choose to drive out on the midwestern dirt, or simply fantasize about it. That's the whole point of sport utility vehicles anyway, isn't it?
The SUS is surprisingly quiet on the road, and the 165-horsepower engine, with dual overhead cams and just four cylinders, pulls strongly. The all-wheel-drive platform puts most of the power through the front wheels, until traction is lost, at which time the system senses which wheel's got a grip on the road and sends the power there. There are no extra levers to operate or buttons to push. Mileage is a respectable 21 city, 27 highway with the automatic.
Drivers will appreciate the SUS's surefootedness and balance, with slightly heavy steering imparting a feeling of control. The car seems glued to the road. On a trip along a winding back road, calm, neutral handling prevailed, while my son slept in back and the stereo played with hardly a whisper of wind or road noise to intrude. The electronic, four-speed automatic transmission is so good I didn't even crave a manual.
All Legacy models have a casual, competent feeling about them. The comfortably cushioned door surfaces have a rakishly slanted armrest-level panel, which shifts everything off the horizon line like an amusement park roller coaster. A full-length pocket runs along the door bottom. The climate controls at center dash resemble Winston Churchill's face, with vent eyes, triangular flasher nose, a mouth made of the slider control and the fan button acting as the cigar.
When you buy a Subaru SUS Limited AWD 30th Anniversary Edition, there's nothing to add, so your price sticker simply says, "$26,090 (including destination charges). For that, you will pilot a vehicle that will take you and your family anywhere in comfort, and offer a degree of exclusivity in the bargain. By Steve Schaefer © AutoWire.Net - San Francisco

Byline: By Steve Schaefer © AutoWire.Net - San Francisco
Column Name: Sport Utility Sedan
Topic: '99 Subaru Legacy SUS
Word Count: 571
Photo Caption: '99 Subaru Legacy SUS
Photo Credits: Subaru PR
Series #: 1999 - 29