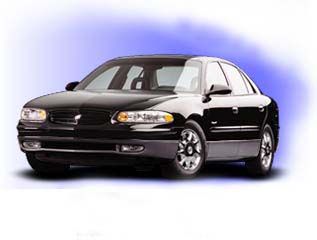 SAN FRANCISCO: How many of your remember that Buick was known as a doctor's car? That was way back, when every General Motors division had a different intended market. Buick stood for reliability (doctors needed a reliable car for all those house calls they used to make), stability (who's more stable than a doctor) and respectability (ditto) without being ostentatious. There were those who might even have called Buick dull.
Buick's been through a few ups and downs since those days but they're riding a high right now (third division in sales within GM). Buick didn't get to that position by building just doctors' cars. And the '99 Regal GS definitely isn't a dull car. Not with a supercharged engine under the hood.
Buick's been building performance cars for a long time, (Remember the GS350 and GS400 of the late '60s and early '70s, or how 'bout the Grand Nationals of the '80s?) so I suppose it's no surprise to see a "hot rod mill" in a Buick. What is surprising is that the '99 Regal GS is not just an engine, it's a complete luxury "touring" car.
I liked the GS even before I opened the door. It's an understated car. It looks respectable. The Platinum Gray Metallic paint is like a well-tailored suit - it highlights the GS' shape. General Motors has certainly come a long way in fit and finish. I'd say the GS meets the highest standards for paint, panel alignment, and appearance.
Then I got in to the GS. Sumptuous but business-like. Leather Seats, functional analogue gauges, and all the controls where they should be. An interior obviously designed by a human; a place you could spend long hours comfortably. Buick says the Regal is a midsize car. If so, midsize is getting bigger, at least on the inside.
I've got to mention the stereo. GM has spun off its audio division into something they call Monsoon. A while ago, I attended a demonstration of the stereos that are installed in the Regals. I was impressed. To my ears, the stereo in the GS was the equal of just about any other I've heard. How about 220 watts of power? But for me the kicker is the clarity at both low and high volume. Kudos to Monsoon and GM. When something sounds good to my poor abused ears, you know it's great.
There was more music to my ears - the engine. I can't believe this engine first came to life way back in the early '60s as a shaky, leaky, anemic V6. Two hundred and forty smooth, but forceful horsepower and 280 lb-ft of torque from 3.8-liters is decent. It's no wonder that the 3800 Series II V6 has won awards. Yes, it's an old-tech, pushrod engine but man, is it ever high-tech in its operation.
The supercharger (a mechanical device used to cram in more air which helps the engine make more power) makes a sweet, muted gear whine when you stick your foot into the accelerator. And the GS just takes off. Yet the supercharged 3800 engine is as smooth as silk and capable of 27 mpg on the highway and 18 in the city (this compares to the base 3800 at 30 and 19). This is what happens when you combine old time hot-rodding know-how with modern electronics.
The four-speed automatic transmission was perfectly programmed and matched to the engine. Shifts were precise but never harsh. The GS was equipped with traction control (traction control is another marvel of electronics that keep the drive wheels from spinning in low traction situations). I didn't get a chance to test it in slippery conditions but on hard acceleration, it kept the front drive wheels from spinning. Traction control may be the next best thing to four-wheel-drive.
I was a little worried that the GS might be another of the too stiffly suspended GM cars. I should have known better. Suspension engineers everywhere might want to take a look at the GS. Taut suspension yet comfortable ride. Big, 16" wheels and tires (P225/60R16) that didn't transmit the arrival of every pebble to my butt, yet were able to grip the curviest roads. Thank you Buick.
Out the door price for the Buick Regal GS was $26,325. This included two options. A luxury package that consisted of electronic dual zone climate control (so you don't have to fight over the temperature with your front seat partner), steering wheel mounted radio controls, and that fantastic radio for $620; and the 16' chrome aluminum wheels for $650.
I just reread what I've written. Doesn't sound like it came from a Ford guy to me. But it did. Was I impressed with the Buick Regal GS? You bet! I enjoyed my week in it and was actually sorry to see it go. I'm willing to bet that if you took the Buick name off it people might actually think it came from another country. So don't consider the Regal GS just because it's an American car, consider it because it's a very good car. By Bruce Hotchkiss © AutoWire.Net - San Francisco

Byline: By Bruce Hotchkiss © AutoWire.Net - San Francisco
Column Name: Respectable, Reliable and Supercharged
Topic: '99 Buick Regal GS
Word Count: 835
Photo Caption: '99 Buick Regal GS
Photo Credits: Buick PR
Series #: 1999 - 28